7 min read
Caring for your mother during end of life
Mother's Day is a special occasion to celebrate and honor the women who raised us and provided us with unconditional love and support. However, as our mothers age, it can become more challenging to care for them, especially during their end of life. Providing care for a terminally ill mother can be a difficult and daunting task that requires patience, empathy, and compassion. It is essential to recognize the importance of caring for our mothers during this time and to offer them the love and support they need to make their final days as comfortable and peaceful as possible.
When caring for a mother at the end of her life, it's important to prioritize her comfort and emotional well-being. This may involve managing her pain, ensuring she has access to spiritual or emotional support, and creating a peaceful and familiar environment. You can also offer to help her with practical tasks such as managing finances or organizing her affairs.
Another important aspect of caring for a mother at the end of her life is to communicate openly and honestly. This may involve discussing her wishes for end-of-life care, as well as any fears or concerns she may have. It's important to listen attentively and provide reassurance and support, while also respecting her autonomy and decisions.
Additionally, it's important to take care of yourself as a caregiver. This may involve seeking support from family, friends, or a professional counselor, as well as taking breaks when needed and prioritizing your own physical and emotional health. By taking care of yourself, you'll be better equipped to care for your mother and provide the support she needs during this difficult time.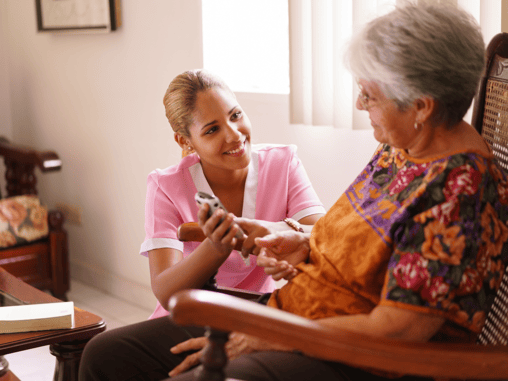 TIPS FOR CARING FOR YOUR MOTHER AT END OF LIFE
Caring for a mother at the end of her life can be a challenging and emotional experience. Here are some additional tips to help you provide the best possible care:
Provide physical comfort: Keep your mother comfortable by ensuring that she is well-hydrated, changing her position regularly, and providing any necessary pain relief medication. You can also offer to give her a gentle massage or help her with personal grooming tasks, such as washing her hair or trimming her nails.

Create a peaceful environment: Your mother may appreciate having familiar items around her, such as family photos or a favorite blanket. You can also play her favorite music or read aloud to her to create a calming atmosphere.
Stay organized: Keeping track of medications, appointments, and other important information can be overwhelming. Consider creating a schedule or using a caregiving app to help you stay on top of everything. Also, create a folder with all the important documents in one place so you can access them easily and quickly if needed.

Seek professional help: If you're feeling overwhelmed or unsure of how to provide the best care, please don't hesitate to reach out to Gulfside's hospice or palliative care team. The clinical and support team at Gulfside can provide guidance and support to both you and your mother.

Foster a sense of connection: Spending quality time with your mother and engaging in activities that she enjoys can help her feel more connected and less isolated. This may involve watching a favorite movie together, playing a game, or simply talking and reminiscing about happy memories.
Remember, caring for a loved one at the end of their life is a profound act of love and compassion. By prioritizing your mother's comfort, communicating openly and honestly, and taking care of yourself, you can provide the best possible support during this difficult time.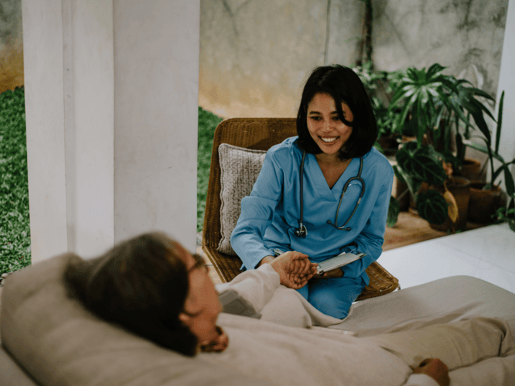 How hospice can help you become better equipped to help you with caring for your mother during end of life
Hospice care is often stigmatized as a place where patients go to die, leading to misconceptions and fear surrounding it. However, hospice care is designed to provide comfort, support, and dignity to individuals during their final stages of life, often for months rather than days. It offers a range of services, including pain and symptom management, emotional and spiritual support, and bereavement counseling for families. By addressing the physical, emotional, and spiritual needs of patients and their loved ones, hospice care can improve the quality of life for those facing a terminal illness.
It is important to remember that hospice care is for the whole family, as it supplements the care you provide, along with giving you educational resources and support. Hospice care helps you focus on spending quality time with your loved one; this is a very important time to create meaningful moments and memories that you will hold onto for a lifetime.
Gulfside Hospice care can be provided at home, at an assisted living facility, or at our in-patient units. The flexibility of this type of care allows for your mom to stay in comfortable surroundings, without the stressful sounds of machines beeping or the constant lull of codes being called out on an intercom system.
The experienced team at Gulfside Hospice provides the very best care to our patients, offering peace and comfort alongside quality medical care, and emotional support to help the entire family through this journey. Gulfside's team works extremely hard and diligently to provide an individualized special care plan for each patient and to honor their end of life wishes.
If you think you know someone who may benefit from our services or if you have any questions on what may qualify someone to receive hospice care from Gulfside, contact us at 800-561-4883 or visit Gulfside.org.