6 min read
How To Start The Hospice Process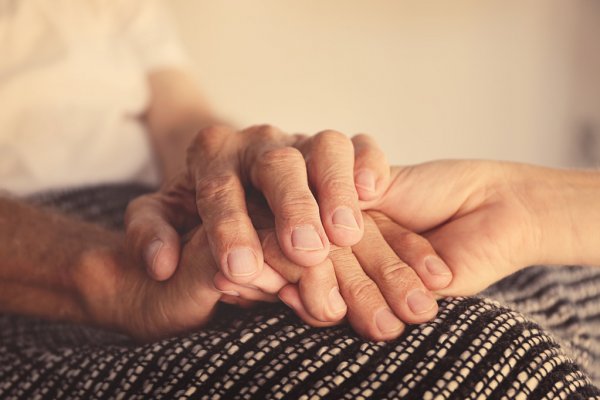 Hospice. An intimidating word to hear at first, and one that leads to a new chapter life. If you research where the word "hospice originates from and has different meanings, you will be able to understand why this journey is not something to fear. It is also not a journey you have to experience alone.
The word hospice comes from the Latin word "hospis" meaning host and guest. In 1842, the term hospice was used to identify a place where the chronically ill would receive care. Now, the term hospice is defined as "care designed to give supportive care to people in the final phase of a terminal illness and focus on comfort and quality of life, rather than cure" (www.medicinenet.com). No matter which definition you look up, you will always find one underlying factor that is connected back to this service – Support.
Early Signs & Indicators That Hospice Might Be The Right Choice:
Being a caregiver and watching your loved one be in pain is not an easy thing to do. By researching the benefits of hospice care and knowing the indicators, you can start the hospice process early and relieve some stress. Our team has compiled a list of a few signs that may indicate hospice is the right choice for your loved one.
Multiple ER visits or hospitalizations - If your loved one is repeatedly having to visit the hospital or emergency room for the same reason and have an issue that is not being controlled properly by current medications or treatments, this might be something that the hospice team can help with.
Multiple infections - Infections are common amongst patients and loved ones when their immune systems begin to weaken. This is due to the fact that as we get older, it becomes more difficult to care of our body properly. A less powerful immune system means more infections and a harder recovery process.
Significant and unintentional weight loss - If your loved one is showing substantial weight loss that is not the intended result of a diet or medications, there could be a more serious issue at hand that should be addressed.
Uncontrollable pain and other symptoms - When the disease process gets to the point that typical medications or treatments are not controlling symptoms, it may be time to consult the hospice team. They can recommend other treatment options to help subdue serious symptoms, such as pain and discomfort, decubitus ulcer, uncontrolled hypertension, or angina.
Decrease in cognitive and functional ability - A terminal illness can make it difficult to move around and leave your loved one feeling confused. If the person you are caring for is experiencing confusion throughout the day, struggling with activities of daily living, and falling more often, then it might be time to enroll them in hospice care.
Not every individual reacts to the same diagnosis the same way, and some might not require hospice care, but palliative or home health care instead. That being said studies have shown that there are four chronic illnesses that might cause a patient to require hospice care – Cancer, Dementia, Heart Disease and Lung Disease. While hospice care is available for anyone at the end stages of an advanced illness, these four diagnoses are seen most frequently in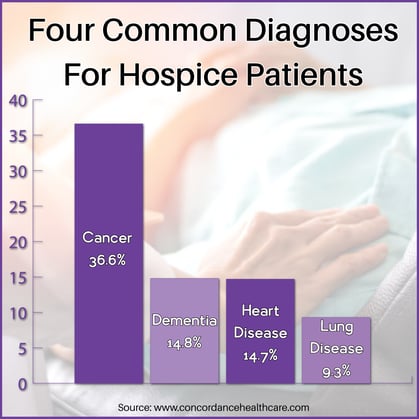 Determining Hospice Eligibility
If your loved one is showing early signs, and you both feel that hospice is the right choice to ensure and continue their quality of life, then it is time to start to the planning process.
To be considered eligible for hospice, a patient must be given a diagnosis of six months or less to live, if the disease should run its natural course. Often times the patient will have a primary diagnosis as well as a secondary or concurrent diagnosis where symptoms and functional status together can make them eligible for hospice.
The guidelines and signs listed in this blog are not requirements for hospice care, but things that are common among patients. Knowing the common indicators can be helpful for determining if your loved one is eligible for hospice care.
With that being said, the main factor of hospice eligibility is a physician's diagnosis of six months or less to live.
What Are The Benefits of an Early Hospice Referral?
Discussing the end-of-life process isn't an easy conversation, but studies have shown that the earlier the planning and hospice referral process happens, the greater the benefits for the patient. You may feel like you are "giving up" as a caregiver by referring your loved one for hospice, but the earlier the referral process happens, the more opportunities your loved one has to have a say and make decisions in their end-of-life journey. Other benefits of not waiting to call hospice include:
Decreases the Number of Hospitalizations – When patients are seen routinely by Gulfside's clinical team, the patient's symptoms are monitored closely and are addressed before they require emergency treatment. This means fewer trips to the hospital or ER.
Quality of Living Improves – Gulfside Hospice focuses on pain control and symptom management, which maximizes the quality of the life.
Foundations for Relationships with the Clinical Team are Developed – Gulfside's approach focuses on the care needs of the entire family. If the care team has more time to discuss their needs and wishes, the family can have more time to utilize all the programs and services available to them and included in the hospice service. When the clinical team has more time­ to earn trust and respect from the patient and family, their end-of-life experience is more peaceful.
Patients Live Longer – Recent studies indicate that patients who enroll in hospice early vs. later receive care that results in better management of symptoms, which leads to stabilization of their disease that prolongs their survival (2010 New England Journal of Medicine).
What services does Gulfside Hospice offer?
No matter what the circumstances might be, our care team is always ready and willing to create a care plan that best suites you or your loved one. Listed below are some of the services offered by Gulfside Hospice:
On-staff hospice physicians who offer pain management and symptom control through home visits.

Experienced nurses whose primary concern is the patient's physical comfort.

Social workers who specialize in helping patients and families live well and fully as they cope with issues surrounding a life-limiting illness.

Non-denominational chaplains who offer services sensitive to the spiritual needs of those facing a life-limiting illness.

Click here to find out more.
Gulfside takes an interdisciplinary approach to giving both patients and their families the best possible quality of life, for as long as life lasts. Our entire team provides both emotional and spiritual support to bring our patients internal peace and comfort, in addition to our excellent medical care.
What are the next steps moving forward?
If you believe that hospice might be appropriate for you or your loved one, the team at Gulfside Healthcare Services is available to answer your questions and start the process. Even if you're not sure, our team is happy to meet with you for a services evaluation to determine how Gulfside can best serve you.
To get started, call us anytime at 800-561-4883 or visit our website to compete the online referral form at www.Gulfside.org/submit-a-referral.